Inna Vernikov, Esq.
[vc_row][vc_column][vc_column_text]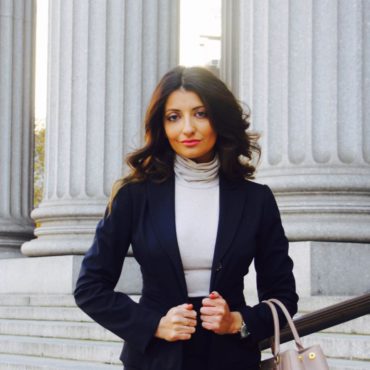 Inna Vernikov is the founding attorney of The Law Offices of Inna Vernikov, PLLC. Ms. Vernikov comes from a hard-working family of Ukrainian immigrants who migrated to the United States in 1996. Ms. Vernikov studied Business Law in Montpellier, France and graduated from Florida Coastal School of Law.
Ms. Vernikov's legal career began many years before her time at law school, when at the age of twenty-three she successfully represented herself against a hair salon for burning her hair after a Japanese straightening service.
Ms. Vernikov's legal experience includes an impressive range of successful outcomes in immigration matters, matrimonial and family matters, as well as criminal defense cases.
Ms. Vernikov worked on several criminal trials at a criminal defense law firm and learned the ins and outs of the criminal justice system during her time at the Kings County District Attorney's office.
While doing research for The Lawfare Project- a legal think-tank in New York, Ms. Vernikov discovered that Hamas and Hezbollah (terrorist organizations) were broadcasting their TV shows within the United States via an internet television company Nilesat IPTV. She then took part in drafting a legal memorandum on the potential criminal recourse against the company. Those findings were later published in several prominent publications such as The Blaze and the Jewish Press.
In 2012, Brooke Goldstein, director of The Lawfare Project and a regular Commentator on Fox News Channel, nominated Ms. Vernikov for the New York Jewish Week's prestigious "36 Under 36" award. Also in 2012 and in 2014, Ms. Vernikov was published in The Forward, a daily newspaper with wide circulation among the American Jewish community. In 2015, Ms. Vernikov was published in the Algemeiner, the fastest growing Jewish newspaper and a valiant media voice addressing important issues of our time.
Ms. Vernikov zealously represents clients in family, matrimonial, and criminal defense matters; assists clients with obtaining United States Citizenship, marriage and family based green cards, visas and visa extensions.
Ms. Inna Vernikov prides herself in being an honest lawyer and is committed to upholding the highest ethical standards of the legal profession. She is widely known amongst friends and colleagues for her persistence, courage of conviction, and integrity.  Ms. Vernikov cares deeply for each and every client and strives to provide exceptional representation.
Bar Admission:
New York State
United States District Court (Eastern District)
Education:
J.D., Florida Coastal School of Law
B.A., Baruch College, Dean's List
Honors, Awards & Certificates 

Certificate in Family Law

Criminal Pre-Trial Practice; Book Award

Congressional Citation for Business Development and Excellent Legal Services

New York State Senate Certificate of Merit for providing outstanding services to the community; sponsored by Senator David Storobin

Attorney of the Year Award – Bay Democrats

New York Jewish Week's 36 Under 36 Award

City Council Citation Sponsored By Councilman Chaim M. Deutsch

Congressional Recognition

 

for Outstanding and Invaluable

 

Service To The Community

 



[/vc_column_text][/vc_column][/vc_row]